We are Hiring! 
Physiotherapist Position
Available

Now
CLICK HERE TO FIND OUT WHY THIS JOB IS FOR YOU!
Are You The Passionate and empathetic Physio We Are Looking For?
PHYSIOS OF MELBOURNE!
(Private Practice Physiotherapist)
Hey YOU!
❓Maybe you are a passionate new graduate looking to leap frog years 💪 in your learning curve and make a difference?
❓Or maybe you are a more experienced Physio that is looking to change your career up, with opportunities to challenge your self and continue your growth in a supportive and collaborative environment where you have purpose in what you do.
❓Perhaps you have been a little scared to take that next step, we are here today to tell you its now YOUR time.
————————–
Role requirements:
Musculoskeletal and Sports injury experience or passion
Must align with our 9 cultural values
Must be passionate and empathetic where you genuinely want to make a difference to others
New Graduates welcome to apply
————————–
At Freedom Sports Medicine we act, think and behave differently to others.
Everything we do, we believe in challenging the status quo to strive for the ultimate care and transformation for our patients.
And our results show this.
————————–
We wake up every single day:
To inspire people to do what inspires them, so that they and we can change our world for the better, and we do it together.
We believe:
The practices who will be successful in the future and lead patient care will create a movement not just a business. They will create a community and home for their team not just a job.
Whether you are a young energetic individual looking to leap frog years in your learning curve, or you are more experienced and want to expand opportunities and reach your true potential, we would love to meet you❗
Our Team are ALWAYS smiling:
ABOUT YOU:
If you have the following attributes, then you may just be what we are looking for!
🔥Passion – You have a strong desire to improve / change people's lives through your impact in healthcare and can outwardly express your passion and drive. You bring energy!
🤝Accountability – You have a solution focused go-getter attitude where you just get stuff done whatever the obstacle.
💡Growth Mindset – You thrive on personal development and feedback! You are open, adaptable and curious.
🧍🧍Unity – You can learn, follow and improve new systems quickly so we are working in unity and as a team. You put team before self and see this bigger picture. You must be a team player.
🦸‍♀️ Leadership – You have super high emotional intelligence, confidence and fantastic people skills, where you inspire clients to see it to the finish lines with their plans!
💪Persistence – You are willing to take uncomfortable action to continually grow and learn. You see things through to the end.
🤩Excellence – You understand learning is life long.  You demand a 10/10 effort, continually grow everyday and as a result get the best outcomes for our clients, team and company.
🌈Joy – You have an optimistic and grateful attitude towards life. You see the joy in life!
🧐Clarity – You are clear in your communication, are open and transparent – you can say what you mean and you value detail and data to help us all excel. 
💙Our Culture & Team are rewarded💙
Our team is our biggest asset.
—>At Freedom Sports Medicine, you're a team member and an employee, not a contractor.
—>You'll receive an above-award base salary, plus bonus and we've got your super covered too.
—>Bonus structure offers up to $16,000, in addition to an above pay award base, so you are rewarded for your hard work.
—>Longer appointment times – Initial appointments 45mins to offer quality.
—>The top PD program in Australia – 5 hours+ of time in your week dedicated to your growth.
—>External PD allowance.
We are one team and love working and growing together. We invest heavily into fostering our team culture.
—>Additional $10,000 annual investment to themed socials, awards, weekly team treats – We love to celebrate and recognise our wins!
—>Well-being programs
—>Calm apps
—>Weekly social FUN – Funky Fridays, Daily Treats, Prizes, Awards – we love to have fun and find the joy in what we do!
—>Quarterly themed social get togethers
CLICK HERE TO REGISTER YOUR INTEREST TODAY!
🔥We have treated over 6000 patients and are passionate about building our team to contribute to their care. The Clinical Director, Ross Kinsella, is an  industry leader with:
—>An extensive background in Sports Physiotherapy of 18 years:
APA Titled Sports & Exercise Physiotherapist
ACP (Australian College of Physiotherapist) member
Masters of Sports Physiotherapy (La Trobe University)
Masters of Strength and Conditioning (Edith Cowan University)
Bachelor of Physiotherapy (Hons) (University of Melbourne)
Bachelor of Medical Science (La Trobe University)
—->His considerable knowledge of Sports Physiotherapy stems from varied experience in the Australian Defence Force, elite sport in the TAC Cup, VFL as well as the AFL, Sports Med private practice work and teaching at La Trobe and James Cook Universities.
—->He is passionate about supporting other Physio's in their professional development and growth.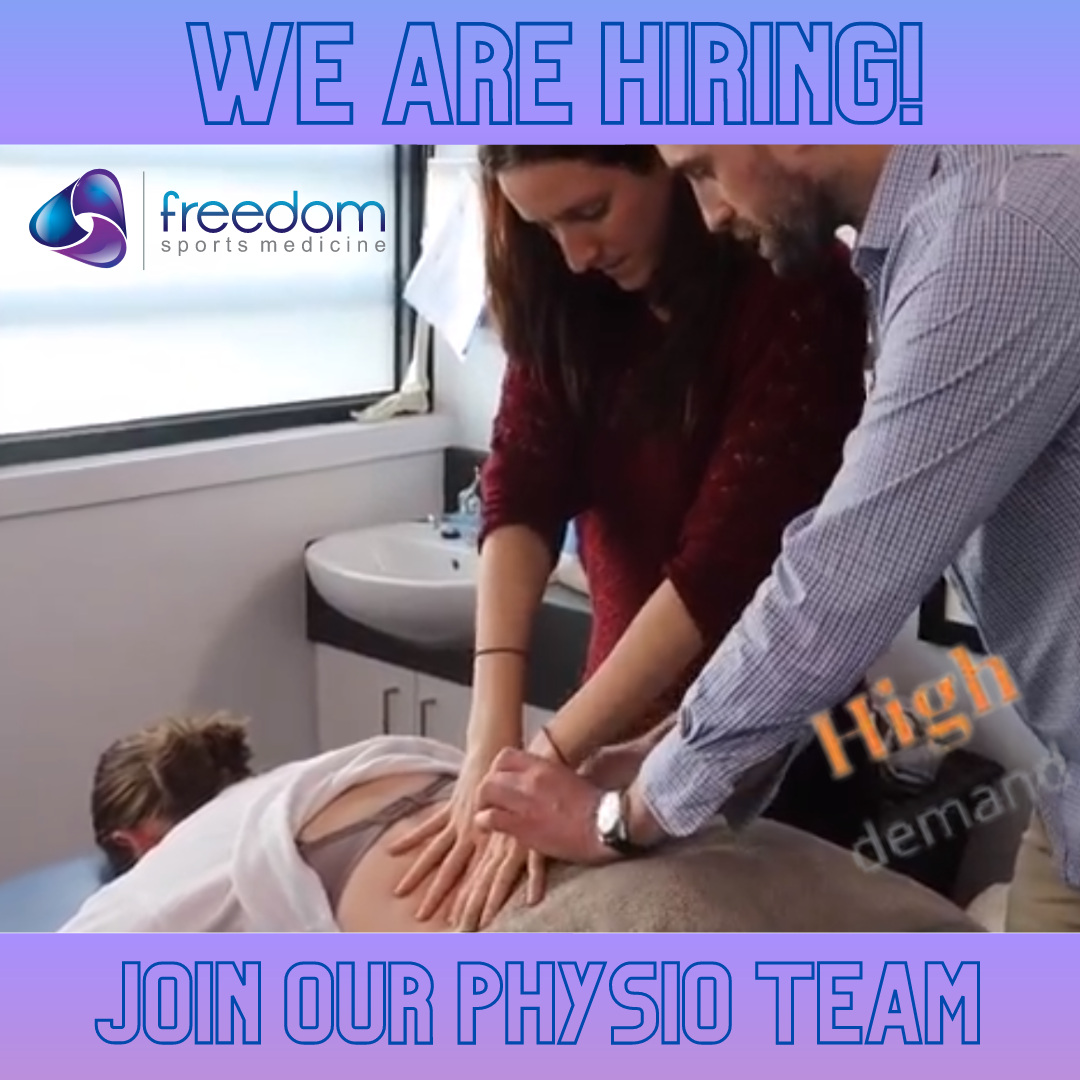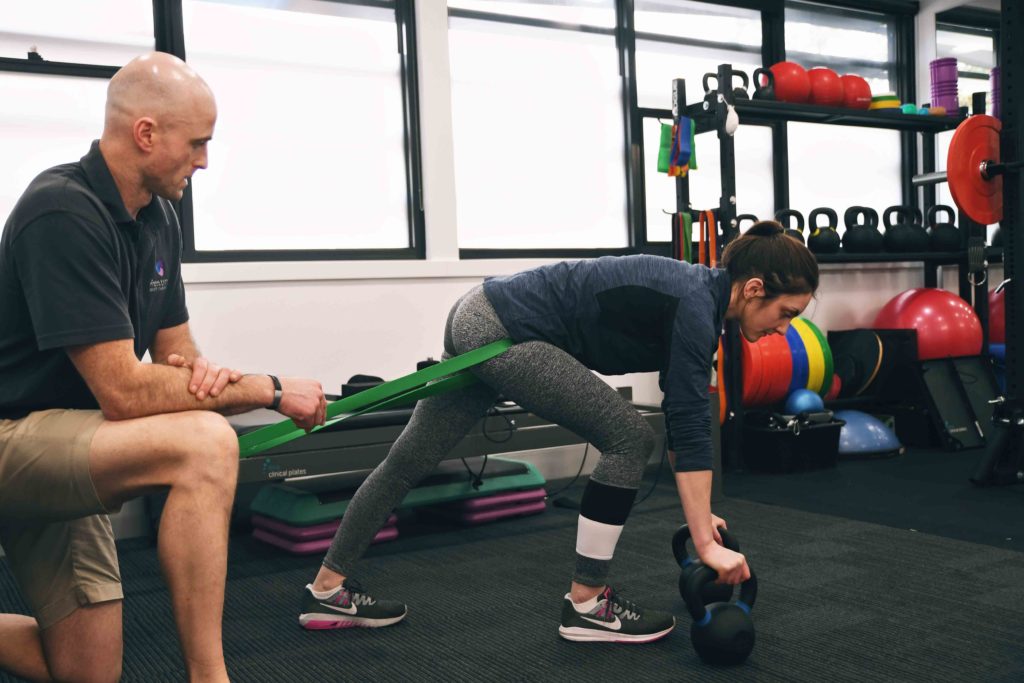 A superior professional and personal growth program for our peak performance culture:
—>Daily coaching with industry leader Ross Kinsella so all questions are answered and you are fast tracked (30 mins)
—>Daily End of Day growth activity (15 mins)
—>Weekly team professional development to deliver the highest client care (1 hour)
—>Weekly one-to-one coaching with your leader so your career is prioritised (1 hour)
—>Weekly culture & values growth with monthly workshops
—>Weekly team coaching and awards (30 mins)
—>Well-being programs
—>Weekly social FUN – Funky Fridays, Daily Treats, Prizes, Awards – we love to have fun and find the joy in what we do!
—>Quarterly social get togethers
—>External PD opportunities
—>Clear ascension pathways to develop your leadership skills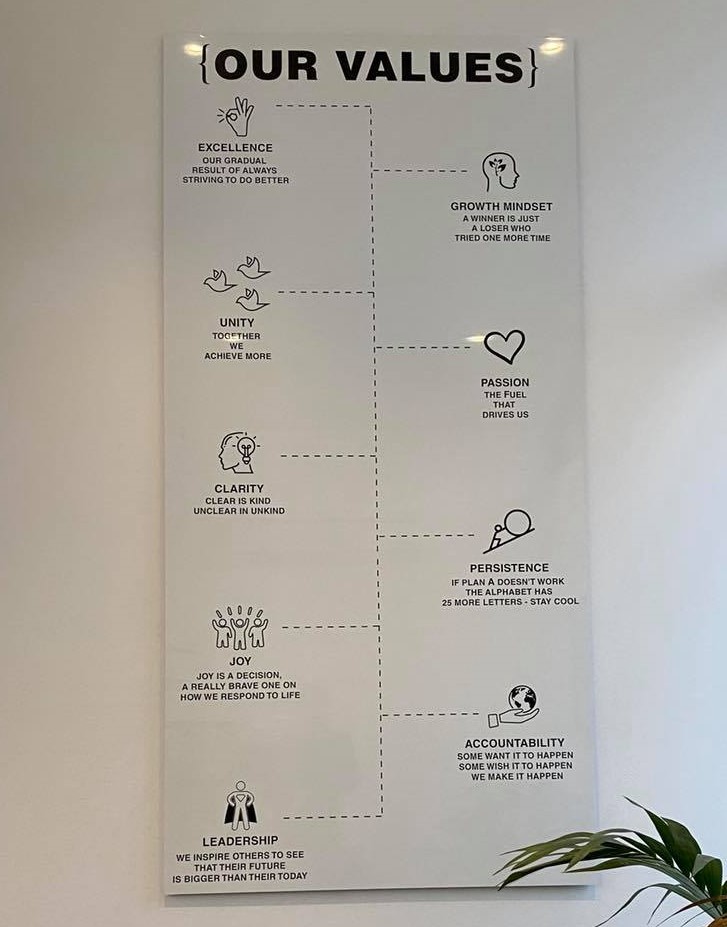 We value how we work together as much as what we achieve.
At Freedom we're all family and here to support you however we can! We have 9 cultural values that underpins our success:
—>Excellence 
—>Passion 
—>Growth Mindset 
—>Unity 
—>Accountability 
—>Clarity 
—>Joy 
—>Persistence 
—>Leadership
🚴 You will never be bored at Freedom Sports Medicine – A busy and varied caseload 🚴
We have treated over 6000 patients and have an excellent reputation being recognised as industry leaders in Sports Medicine.
We offer a varied caseload beyond your typical necks and backs that incorporates a range of sporting injuries associated with the foot, ankle, knee, hip and shoulder to name a few!
We treat all ages and athletes providing diversity within your role. 
—>Sports Physiotherapy
—>Physiotherapy
—>Podiatry
—>Pilates practitioners
—>GLA:D practitioners
—>Masters trained in Strength & Conditioning, in addition to, APA Titled Sports & Exercise Physiotherapy
—>Industry leading Running Advancement Programs
—>A state of the art building
—>The most up-to-date technology and systems to be a whizz at your job
—>A fully equipped gym with advanced weights
—>Full-range of Clinical Pilates equipment etc
—-> Mobile Rehab App (Exercise prescription, Videos etc – all set up and linked to our treatment plans!)
—-> Internal communication systems & digital notes (including digital patient forms)
And if you love sport then we are your place!
👨‍⚕️Industry leaders in Sports Medicine👨‍⚕️
Your progression in Sports Medicine is taken to another level. Achieve what you would in 5 years in 2!
—>Digital and advanced treatment plans for EVERY condition in Sports Medicine to fast track YOU in becoming a recognised leader.
—-> Mobile Rehab App and Desktop version (Exercise prescription, Videos etc – all set up and linked to each of our treatment plans!)
—>Based on 18 years of experience in Sports Medicine, Masters degrees in Sports Physiotherapy and Strength & Conditioning and the latest research. These are continually developed as a team so we all thrive together – One team.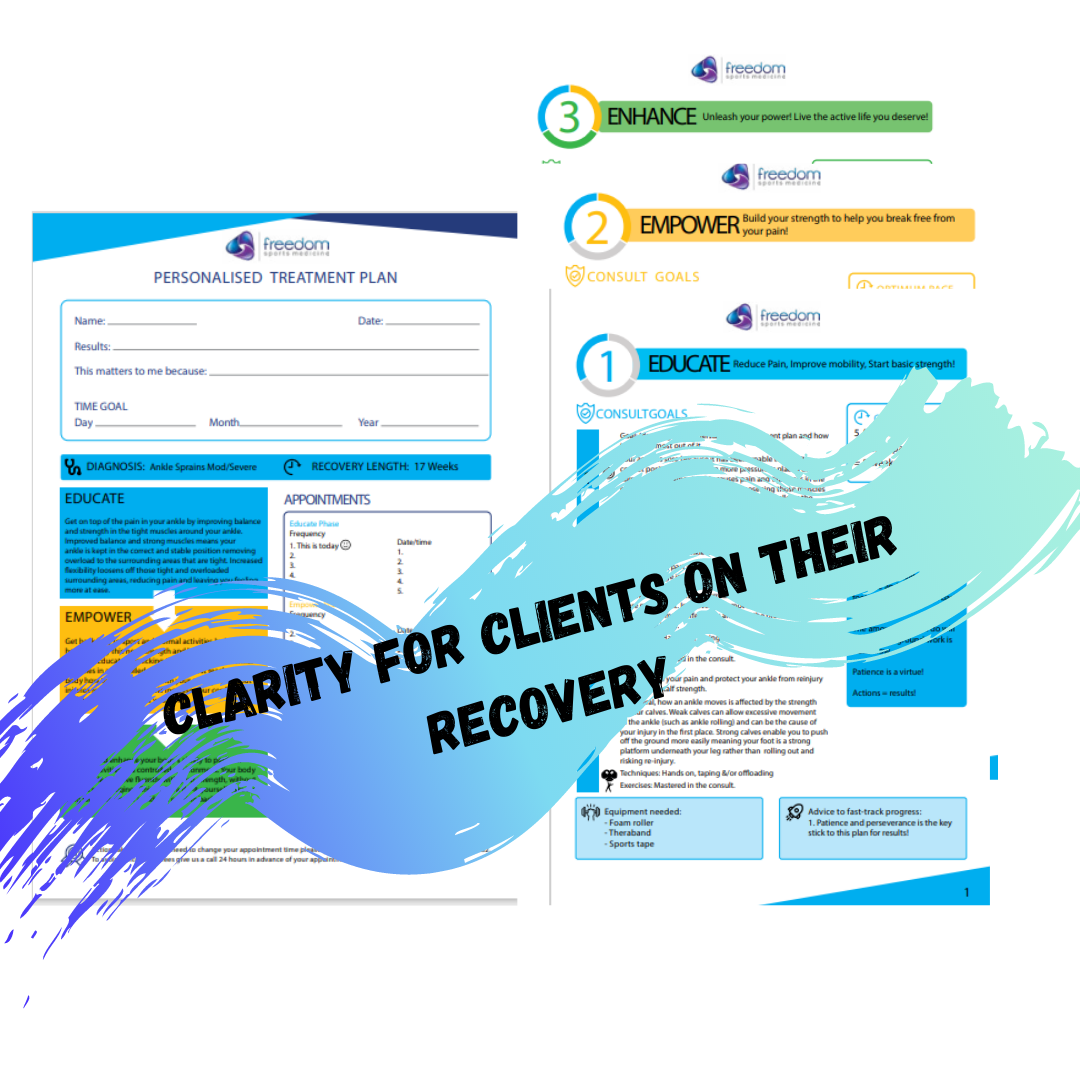 Thinking this role was tailor-made for you? Read on to learn more.
🙏Client Service – Deliver excellent assessment consultations that enable clients to commit to their treatment plan and therefore achieve their rehabilitation goals.
💬Client communication & Leadership – Lead and ensure clients remain engaged with their treatment plan so they achieve their goals and the best possible treatment outcomes.
🌱Continual learning and growth – Continually develop your skills and self and be accountable at all times. Highly engage and value coaching and professional growth.
📢Client reach –Supporting with marketing e.g facebook videos to help build client awareness, engagement and education to reflect our clinic core values!
📊Data driven– Using our prepared trackers so we have clarity across our clinic of how to improve daily. Then of course, we celebrate our wins when we smash our team and individual targets that bring Excellence to our practice.
Click here to register your interest today!