Our Approach
1. We listen to your story in detail – digging deeper and further beyond the surface level to connect with your why. A relationship is established, a connection towards a better you and understanding that your future is bigger than your today.
2.We educate you on the REAL reasons you are being held back and provide a step-by-step plan. Clarity, certainty and momentum is restored.
You are empowered with advanced exercise prescription led and overseen by our expert APA titled Exercise and Sports Physio Ross Kinsella, so every time you received a tailored program that meets your needs, your goals and your body.
Freedom Sports Medicine The Home of Physiotherapy Treatment.
When it comes to pain, stiffness or poor performance, the right physiotherapy treatment will change your world and help you achieve your goals.
Here at Freedom Sports Medicine, we have more than 40 years of combined experience that we put into practice working with our clients. From injury rehab to performance enhancement, having the right team in your corner gives you real results for long-term success no matter what you want to achieve.
In our physiotherapy clinic, we combine education and exercise to go beyond the traditional hands-on physiotherapy treatment that you need by tapping into the psychology we can really understand your why and find a way for you to achieve your goals.
What can I Expect at the Physiotherapy Clinic?
In our physiotherapy clinic, you will work with a fully trained, experienced physiotherapist who will stop at nothing to help you find the answers you need for recovery and performance. We work on education to help you understand what each stage of your treatment entails and what you can do at home to maximise your results. We empower you to take control of your treatment, so you always feel in control of your progress and we work to enhance your day-to-day life with physiotherapy that takes you above and beyond your current situation.
We consider the body as a whole and offer a range of treatments that are designed to really get to the root of the problem. Our unique offering of hands-on treatment like manipulation and manual therapy, dry needling, and Shockwave in combination with education about postural improvements and an exercise program created just for you will give you great results and a long-lasting change to your current pain and stiffness levels.
Physiotherapy sessions at Freedom Sports Medicine is suitable for reducing both acute and chronic pain, treating sporting injuries as well as pre- and post-surgery rehabilitation. Our team are experienced in working with pregnant and post-natal mothers. We can also use our skills and knowledge in physio and exercise prescriptions to increase your sports performance.
With the right physiotherapy in Australia, you will find that your movement and function can be restored, and you will reduce the risk of an injury in the future.
Physiotherapy Australia: Improve Your Results and Your Life with Freedom Sports Medicine.
We believe that the benefits of physiotherapy treatment should be available to everyone whether you are living with pain, need help to rehabilitate after surgery or an injury, or just want to move well as you age. That is why we are here, ready to help provide the best physiotherapy in Australia with our unique and bespoke programs based on what you want to achieve.
Let us take care of your progress through a thorough examination, regular appointments, education, and exercise to empower you our end goal is for you to stay out of our physio clinics for good! It is never too late to improve, and you too can live a life free of pain and stiffness.
Start your journey to better movement, less pain, and peak performance today with sports physio at Freedom Sports Medicine today.
We also provide the best podiatrist services in Melbourne as well world-class clinical Pilates sessions. Read Less
What to expect in your appointment
Your physiotherapist will listen to your problems in detail and focus on 3 key areas
Results: What are my goals and why are they important to me?
Reality: What is wrong with me? What caused it? How is it impacting me personally?
Roadblocks: What is stopping me from reaching my goals? How long will it take me to get better? What are the exact steps?
A step-by-step written treatment plan is provided to achieve your goals fast.
Netball Australia KNEE program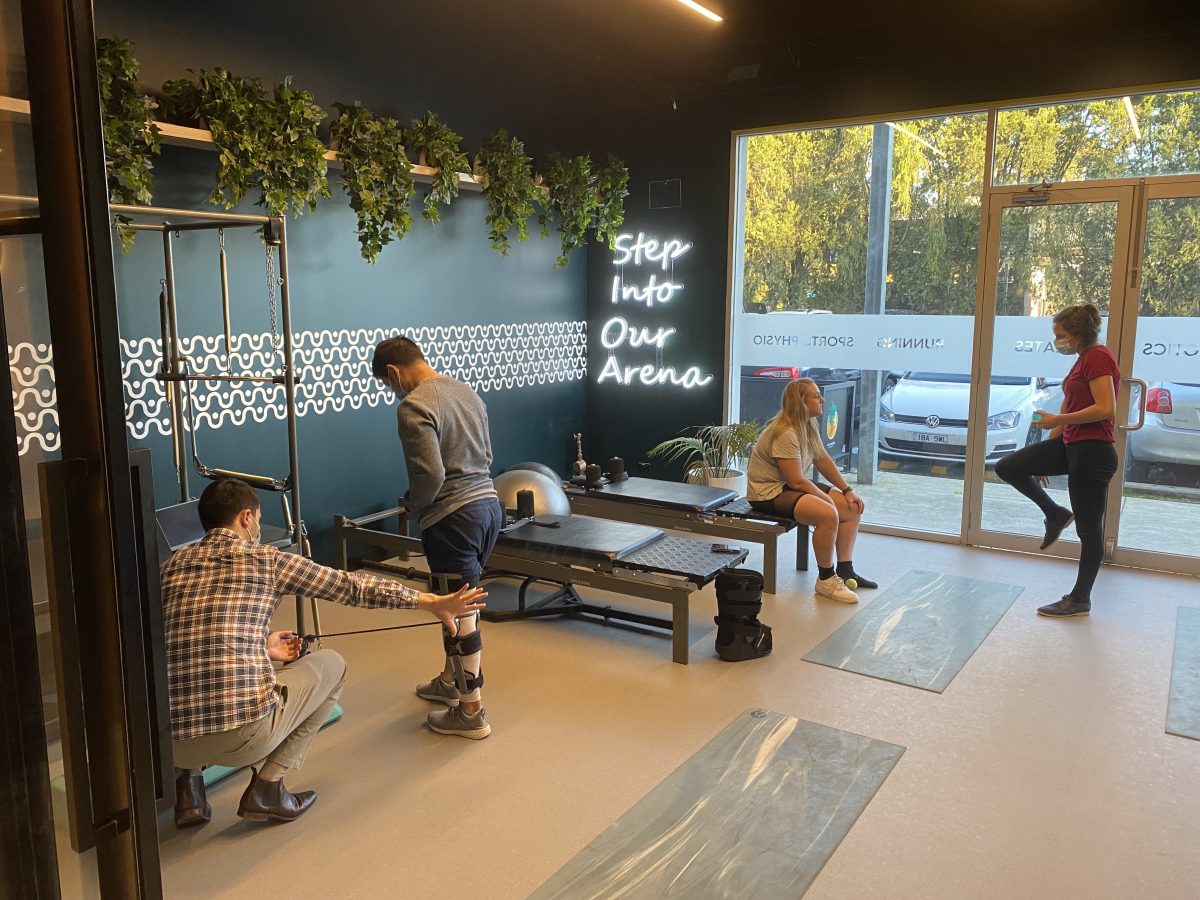 Reducing your pain throughout all body parts, such as the knee, hip, shoulder and more
Managing and reducing your chronic pain such as neck and back persistent pain
Reducing your headaches and migraines
Treating your sporting injuries
Pre- and post- surgical rehabilitation
Managing your arthritis (GLA:D program)
Pre- and post- natal conditions
Enhancing your sports performance through screening and exercise prescription
Use of shockwave therapy
Use of dry needling
Extensive experience to help you in the following sports:
Running
Triathlon
Dancing
Aussie Rules Football
Soccer
Rugby
Cheerleading
Athletics
Swimming
Tennis
Cycling
Basketball
Netball
Hockey
Volleyball
Golf
Gymnastics
Lacrosse
Weight lifting
Cross Fit