Known for being the leading Sports Physiotherapist in Melbourne
Whether your goal is to pick up your grandchildren. Or run 100km we have helped over 6000 clients reach their goals.
Online booking
Very few Physiotherapists in Melbourne have this dual qualification
A Sports Physiotherapist completes a physiotherapy degree PLUS a further 4 year masters degree meaning you receive step-by-step advice in your particular sport or injury.
Sports Physiotherapy is led by Ross Kinsella an industry leader with a masters degree in Sports Physiotherapy. In addition to this he has also obtained a second masters degree in Strength & Conditioning. He draws on his own experience as an endurance athlete. He qualified for the World Championship Hawaiian Ironman and has run a 2 hour 43 minute marathon!
Freedom Sports Medicine Sports Physio in Melbourne
If you live in the Melbourne area and are looking for improvement in your sports performance, you may well be on the search for a reliable and results-focused sports physio. Before you Google sports physio near me, we can help here at Freedom Sports Medicine.
Our Founder, Ross Kinsella, is an elite athlete himself, having competed in Ironman competitions and even qualifying for the Hawaiian Ironman in 2013. As a high-performing athlete, he is perfectly placed to provide sports physio and performance enhancement for his clientsand has spent time creating the perfect clinic for Melbourne sports physiotherapy staffed by professionals that are dedicated, experienced experts.
Find out how Melbourne sports physio from Freedom Sports Medicine can change and improve your performancewherever you are on your athletic journey.
Sports Physiotherapy: More than Just a Massage
The traditional view of a physiotherapist is someone you go and see after an injury or as part of a rehab program following surgery. They massage and manipulate various areas of your body, leaving you feeling better and stronger, improving range of motion by reducing stiffness, and reducing or removing pain.
This is just one facet of what makes Freedom Sports Medicine the best option for Melbourne sports physiotherapy. It is the combination of traditional physiotherapy treatments and our unique mix of education, empowerment and exercise prescription that sets us apart.
Whether you are a weekend warrior looking to improve your running or an elite athlete training for a competition, sports physio could be the secret weapon that makes you amazing. As part of your training regime, our experienced team are ready to help you create a bespoke program to suit your needs.
Performance in all sports can be improved with the right sports physiotherapy program. We work with runners and cyclists, dancers and golfers, swimmers, gymnasts, basketball and netball players and even elite weightlifters.
When you come to Freedom Sports Medicine, you will receive a full, detailed session where we will discuss your current health and any injuries or illnesses, as well as finding out what your goals are. We will dive into your own psychology to understand what makes you tick, what your motivators are, and what could possibly hold you back from achieving your goals.
We will also perform an exercise screen so that we know where you are in your performance. This will help provide a starting point for your exercise prescription and identify any areas that need more of a focus.
We have a very selected team of physiotherapists in Kilsyth and a team of physiotherapists in Lilydale that Freedom Sports Medicine can provide.
Leading Sports Physiotherapy Near You in Melbourne
We work on the whole body because performance enhancement is about more than just one facet of mechanics. Athletes work on all areas of their fitness to be the best, and that is why when you come to us you will be able to get traditional hands-on therapy as well as dry needling, Shockwave therapy and GLA:D (for hip or knee osteoarthritic symptoms.) We can also use our knowledge to provide specialist clinical Pilates sessions great as part of a sports physiotherapy exercise prescription to improve core strength, function, and stability.
In addition to this, you can also take advantage of our team's extra training in Strength and Conditioning to help build power and strength.
The Freedom Sports Physio Medicine Difference
Freedom Sports Medicine offers you the opportunity to take your performance to the next level – no matter what your goals are. Contact us today and find out why we are the answer to your search for 'sports physiotherapy near me'.
Start your journey to better movement, less pain, and peak performance today with physiotherapy treatments at Freedom Sports Medicine today.
We also provide world-class strength conditioning sessions in Melbourne. Read Less
What to expect in your appointment
Your Sports Physiotherapist will listen to your problems in detail and focus on 3 key areas
Results: What are my goals and why are they important to me?
Reality: What is wrong with me? What caused it? How is it impacting me personally?
Roadblocks: What is stopping me from reaching my goals? How long will it take me to get better? What are the exact steps?
A step-by-step written treatment plan is provided to achieve your goals fast.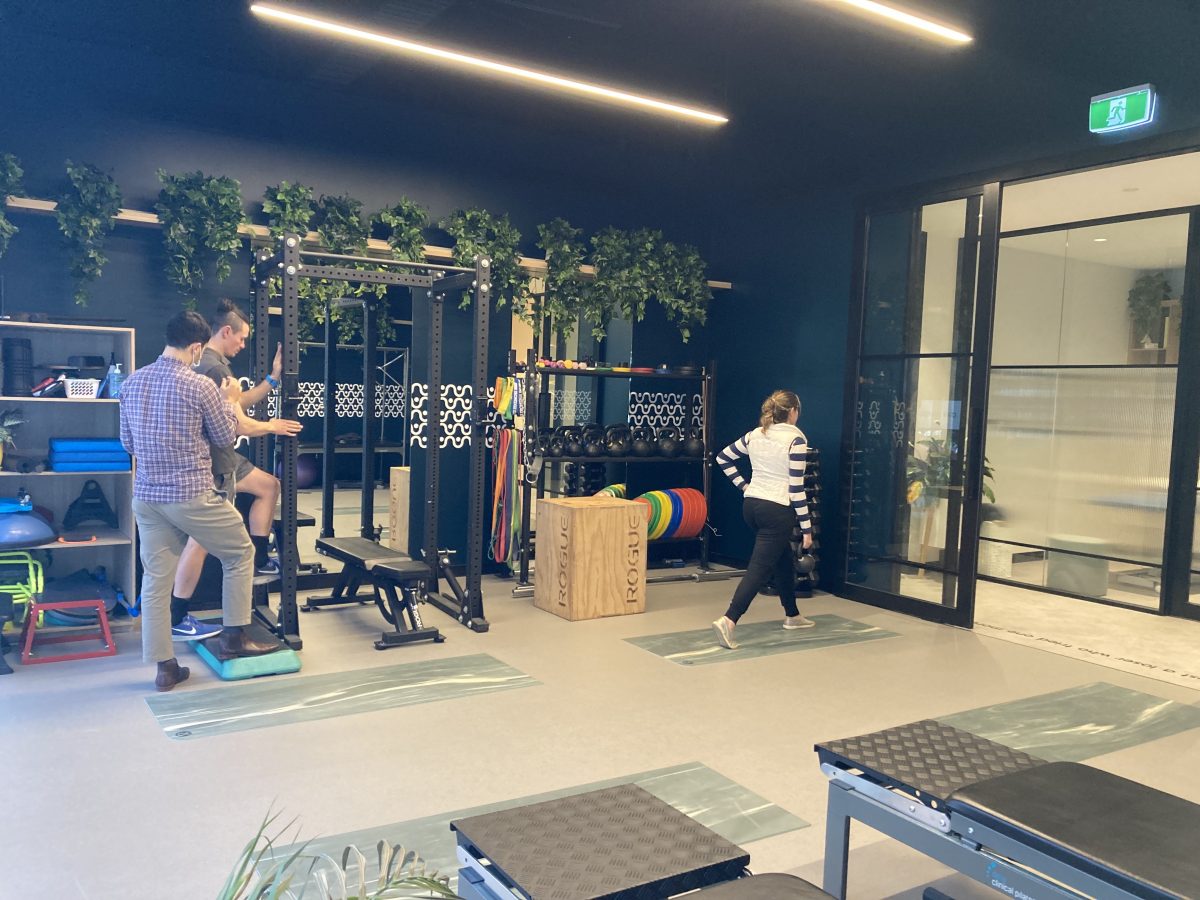 Treating your sporting injuries
Pre- and post- surgical rehabilitation
Managing arthritis (GLA:D program)
Managing and reducing any pain you have in your body, such as neck, back, hip pain and more
Reducing pain and stiffness in muscles and joints. Including chronic conditions
Reducing your headaches and migraines
Enhancing your sports performance through advanced screening and exercise prescription
Use of shockwave therapy
Use of dry needling
Extensive experience helping you with a range of sports:
Running
Triathlon
Dancing
Aussie Rules Football
Soccer
Rugby
Cheerleading
Athletics
Swimming
Tennis
Cycling
Basketball
Netball
Hockey
Volleyball
Golf
Gymnastics
Lacrosse
Weight lifting
Cross Fit